Spraycraft Easy-To-Use Airbrush Kit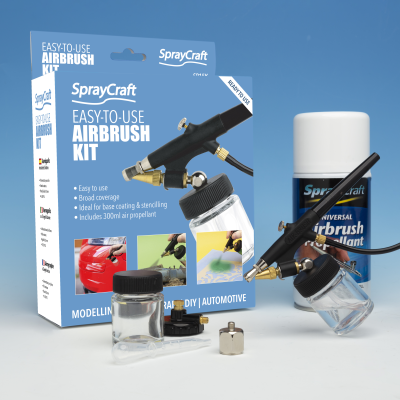 Spraycraft Easy-To-Use Airbrush Kit
Code : SP15K
Weight : 0.34 Kg
Description
• Perfect for beginners
• Easy to clean
• Use with propellant or compressor

Spraycraft SP15K Easy-To-Use Airbrush Kit
This general-purpose airbrush is designed to be simple to use, the single action trigger is easy to operate and with external mix there is less cleaning required.
Spray large areas with ease or create & decorate with stencils and masks, ideal for use with most paints, acrylics, enamels and lacquers.
• Perfect for beginners
• Easy to clean
• Use with compressor or propellant
Specifications
Single action
External mix
Nozzle dia. 0.8mm
Siphon feed
15-50 PSI operating pressure
Contents
SP15 Airbrush
Propellant Adaptor
300ml Propellant
Compressor Adaptor (1/8" BSP)
2x 20cc Bottle (0.67 fl oz)
1.5m Hose (60")
Pipette
Spraycraft
The Spraycraft range is a collection of great value airbrushes, ready-to-use kits, and accessories for the beginner as well as the enthusiast. From easy-to-use single action broad stroke to dual action detailed airbrushing, Spraycraft offers the right solution.
Product Code: SP15K
Product Name: Spraycraft SP15K Easy-To-Use Airbrush Kit
Brand: Spraycraft