Rotacraft RC18X Variable Speed Mini Rotary Tool Kit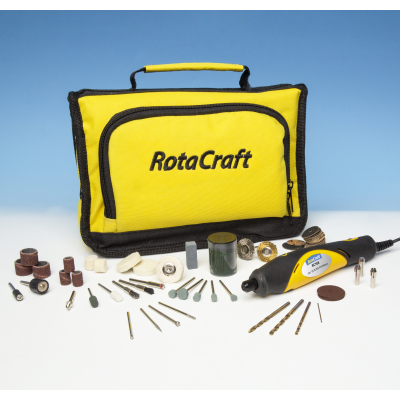 Rotacraft RC18X Variable Speed Mini Rotary Tool Kit
Code : RC18X/EUK
Weight : 0.45 Kg
Description
• Ideal for precision hobby, DIY, craft & wood work
• Variable speed: 5000 – 25000rpm
• Output 18V DC, 230V/50Hz
• 75 Accessories, including 5 collets (1.0, 2.35, 2.4, 3.0 & 3.2mm)
• Includes UK & EU adaptors
• Ready to use
Rotacraft RC18X Variable Speed Mini Rotary Tool Kit
A versatile rotary tool with variable speed and a range of accessories, perfect for a wide variety of tasks. Easy to use, with a comfortable grip and keyless collets.
Includes 75 accessories for drilling, sanding, shaping, filing, cleaning, polishing, carving & engraving.
• Ideal for precision hobby, DIY, craft & wood work
• Variable speed: 5000 – 25000rpm
• Output 18V DC, 230V/50Hz
• 75 Accessories, including 5 collets (1.0, 2.35, 2.4, 3.0 & 3.2mm)
• Includes UK & EU adaptors
• Ready to use
Specifications
Output: 18V DC
Input: 230V, 50Hz
Speed: 5000 – 25000rpm
Collets: 1.0, 2.35, 2.4, 3.0, 3.2mm
Cable: 2m
Adaptors: UK & EU
Rotacraft
Rota Craft offers an excellent range of precision tool kits – 12 volt, 230 volt and Cordless, suitable for beginner and the professional user. The tools are supported by a wide range of accessories and attachments. Ideal for modelling, electronics, general DIY, craft work, antique repair & restoration, engraving, jewellery making plus a variety of other precision tasks.
Product Code: RC18X
Product Name: Rotacraft RC18X Variable Speed Rotary Tool Kit
Brand: Rotacraft
Barcode: 5060576967300