Rotacraft 3.6V Micro Rotary Tool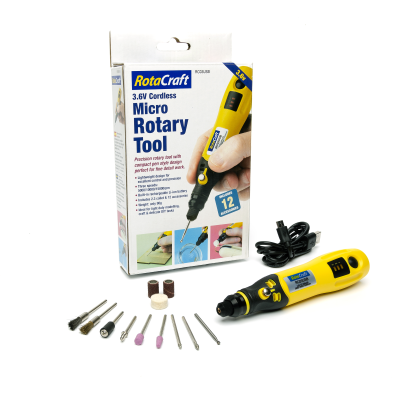 Rotacraft 3.6V Micro Rotary Tool 
Code : RC03USB
Weight : 0.13 Kg
Description
•  Three speeds: 5000/10000/15000rpm
•  Excellent control and precision
•  Built-in rechargeable Li-ion battery
•  Includes 2.3mm collet & 12 accessories
•  Ideal for modelling, craft & delicate DIY tasks
Rotacraft 3.6V Micro Rotary Tool
Precision rotary tool with compact pen style design perfect for fine detail work.
Lightweight and portable with 12 accessories included, suitable for a range of light-duty applications.
Includes 12 accessories for sanding, shaping, filing, cleaning, polishing, carving & engraving.

Grinding Stones x2
Wood Carving Burr
Small Steel Brush
Small Brass Brush
Medium Ball & Flame Diamond Bits
Sanding Drum Mandrel
Fine & Coarse Sanding Drums
Polishing Wheel Shank
Fleece Wheel (6 x 9mm)

Rotacraft
Rotacraft offers an excellent range of precision tool kits – 12 volt, 230 volt and Cordless, suitable for beginner and the professional user. The tools are supported by a wide range of accessories and attachments. Ideal for modelling, electronics, general DIY, craft work, antique repair & restoration, engraving, jewellery making plus a variety of other precision tasks.
Product Code: RC03USB
Product Name: Rotacraft 3.6V Micro Rotary Tool
Brand: Rotacraft