Modelcraft Magnetic Soldering & Work Station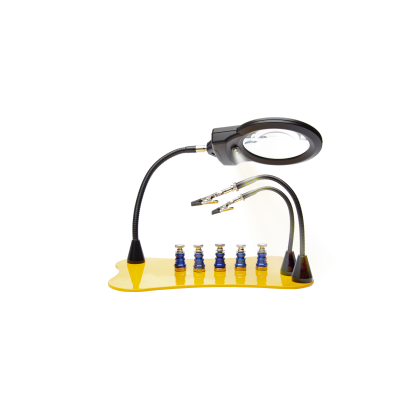 Modelcraft Magnetic Soldering & Work Station
Code : PCL2500
Weight : 0.61 Kg
Description
• Built-in magnifier with LED light
• Adjustable alligator clips
• 5 holding clamps for PCB, bases or component parts
• Removable and repositionable arms & clamps
• Heavy duty base
Modelcraft Magnetic Soldering & Work Station
A versatile workstation ideal for securely holding parts whilst soldering, modelling and painting.
Both arms and work holders can be removed and repositioned to suit any task. Stable yet flexible arms, with powerful magnets holding them securely in position and rubber covers on the alligator clips to protect delicate parts.
The Modelcraft Collection
The Modelcraft collection is a comprehensive range of useful, often hard-to-find precision hand tools and accessories essential for any toolbox. The range of Modelcraft tools covers many applications where detail, precision and close-up control are needed, such as model making, general hobby & craft, electronics & light engineering, renovation & restoration, jewellery making, as well as smaller DIY and household repairs.
Product Code: PCL2500
Product Name: Modelcraft Magnetic Soldering & Work Station
Brand: Modelcraft
EAN: 5060576969915