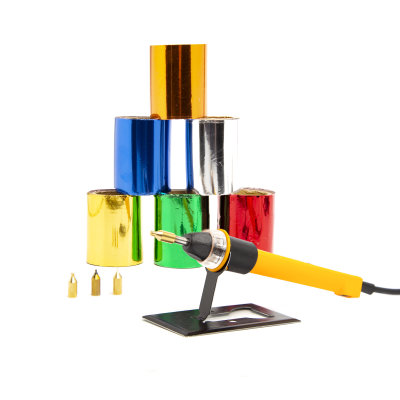 Modelcraft Foil Art Pen
Code : PFT1000
Weight : 0.12 Kg
Description
• Ready to use
• Lightweight pen-style design
• Create eye-catching foil art & craft designs
Modelcraft Foil Art Pen
Create beautiful foil art with this easy-to-use kit. The comfortable pen-style design gives complete control to write, draw and trace with ease. Perfect for adding eye-catching accents to artwork, papercraft, scrapbooks, cards, home decoration, and more.
Can be used on a variety of materials including paper, card, leather, wood, fabric, plastic, vinyl, and more.
Includes everything you need to get started!
Contents
Foil Heat Pen
4 Tips (0.5, 1.0, 2.0, 2.5mm)
Stand
6 Foils (4cm x 3m)
Fitted 120cm USB cable
Modelcraft
The Modelcraft Collection is a comprehensive range of useful, often hard to find precision hand tools and accessories essential for any toolbox. The range of Modelcraft tools covers many applications where detail, precision and close up control are needed, such as model making, general hobby & craft, electronics & light, engineering, renovation & restoration, jewellery making, as well as smaller DIY and household repairs.
Product Code: PFT1000
Product Name: Modelcraft Foil Art Pen
Brand: Modelcraft