Modelcraft Cordless Foam Cutter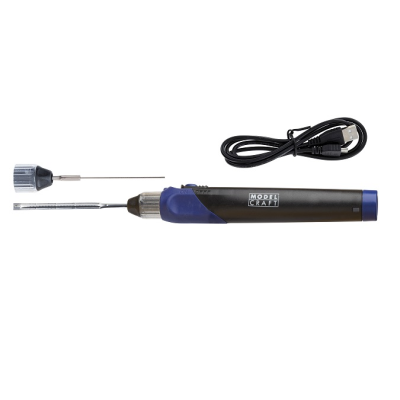 Modelcraft Cordless Foam Cutter
Code : PSS1070
Weight : 0.10 Kg
Description
• Includes two 60mm tips:
Pin tip (1.2mm) 12W - foam sculpture & detailing
Blade tip (5mm) 20W - carving & cutting
• LED light for illumination of work
• Built-in rechargeable battery - up to 70mins continuous run time
• On/Off switch and safety cap
Modelcraft Cordless Foam Cutter
Convenient powerful foam cutter that heats quickly, creating fast clean precision cuts. Specially designed tip structure cuts smoothly without burning.
Ideal for model and prop building, scenery, art, craft, stencils, signs, displays & DIY projects.
Includes two interchangeable pin & blade foam cutting tips, perfect for cutting and contouring foam, polystyrene, styrofoam, foam core board & insulation foam.
Lightweight, portable and easy to handle, with no more cables in the way you can work with ease in any situation.
Multi-Function
This versatile tool can be used for a variety of applications with alternative tips available for soldering & heat shrinking.
The kit includes 2 tips already, the pin and blade style foam cutters, with additional tips sold separately:
Pin Foam Cutting Tip [PSS1071]
Blade Foam Cutting Tip [PSS1072]
12W Soldering Tip [PSS1073]
30W Soldering Tip [PSS1074]
Heat Shrink Tip [PSS1075]
The SHESTO Modelcraft Collection
The SHESTO Modelcraft collection is a comprehensive range of useful, often hard to find precision hand tools and accessories essential for any toolbox. The range of Modelcraft tools covers many applications where detail, precision and close up control are needed, such as: model making, general hobby & craft, electronics & light engineering, renovation & restoration, jewellery making, as well as smaller DIY and household repairs.
Product Code: PSS1070
Product Name: Modelcraft Cordless Foam Cutter
Brand: Modelcraft