Modelcraft Classic Craft Knife Set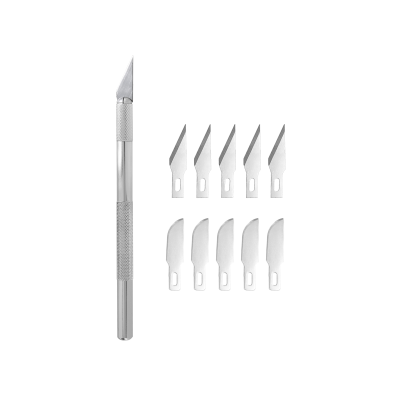 Modelcraft Classic Craft Knife Set
Code : PKN3301/S
Weight : 0.01 Kg
Description
• Lightweight aluminium #1 handle
• Easy control and precision
• Knurled handle for better grip
• Includes 5 x #10 & 5 x #11 blades
• Essential tool for craft, model & hobby
Modelcraft Classic Craft Knife Set
An excellent value craft knife set with classic #1 handle and 10 blades. The popular curved and pointed blades can be used for general purpose, fine angle cuts, carving, piercing, scoring, scribing and trimming.
Knife Handles #1 & Blades
The Modelcraft collection offers a choice of #1 knives & blades suitable for all crafters, hobbyists and professionals. These include a classic craft knife #1, a soft grip knife #1 with magnetic end as well as a soft grip knife set with blades.
Not to be sold to persons under 18 years of age (18+). Keep blade out of reach of children and animals to avoid injury.
Product Code: PKN3301/S
Product Name: Modelcraft Classic Craft Knife Set
Brand: Modelcraft