Lightcraft LED Headband Magnifier Kit with Bi-Plate Magnification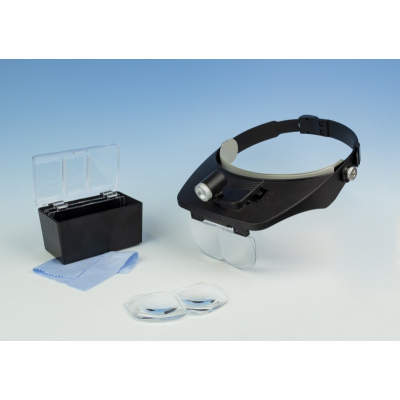 Lightcraft LED Headband Magnifier Kit with Bi-Plate Magnification
Code : LC1764LED
Description
• Fully adjustable headband with bi-plate feature
• 4 Precision ground lenses with focal lengths from semi close-up to very close-up
• LED Spotlight - adjustable (2x AAA batteries included)
• Includes lens case & cleaning cloth
Lightcraft LED Headband Magnifier Kit with Bi-Plate Magnification
Ideal for close-up precision work, leaving your hand free. This fully adjustable headband includes 4 lenses with bi-plate magnification option and swivel LED spotlight. For professional, craft, hobby or DIY projects demanding close-up work.

Specifications
Magnification 1.2x working distance 500 - 600mm
Magnification 1.8x working distance 225 - 300mm
Magnification 2.5x working distance 125 - 250mm
Magnification 3.5x working distance 75 - 125mm

Bi-Plate:
Magnification 3.0x working distance 155 - 170mm
Magnification 3.7x working distance 130 - 140mm
Magnification 4.3x working distance 110 - 120mm
Magnification 4.7x working distance 105 - 115mm
Magnification 5.3x working distance 90 - 100mm
Magnification 6.0x working distance 80 - 90mm
Lightcraft
Lightcraft offers a great value range of fluorescent and LED daylight magnifier lamps. The range includes, table lamps, long reach & task lamps, headband magnifiers and lightboxes.

From occasional user to professional, Lightcraft has the product to suit your needs
The users are wide and varied, including reading, writing & study, crafting & modelling, sewing & tapestry, jewellery making, electronics and light industrial work, airbrushing, nail art & filling, stamp collecting, painting and even smaller DIY tasks. The list goes on!

All Light Craft products comply with EU quality standards.
Product Code: LC1764LED
Product Name: Lightcraft LED Headband Magnifier Kit
Brand: Lightcraft

Barcode: 5060252029957