Spraycraft SP30/CDK Cake Decorating Airbrush Set (UK Version)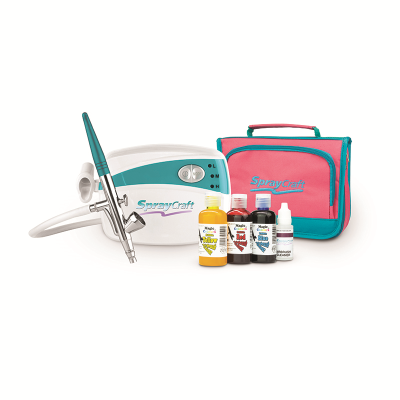 Spraycraft SP30/CDK Cake Decorating Airbrush Set (UK Version)
Code : SP30/CDK
Weight : 0.86 Kg
Description
• Airbrush with gravity feed cup & 0.35mm needle/nozzle
• Mini compressor 15psi with 3 air pressure settings - low, medium & high (plus airbrush holder, airbrush hose, AC adaptor)
• 3 edible airbrush colours (55ml) Red, Yellow & blue from Magic colours
• 1 airbrush cleaning fluid
Spraycraft SP30/CDK Cake Decorating Airbrush Set

This kit includes a classic user-friendly gravity feed airbrush with a mini compressor with three pressure settings, airbrush holder, a starter pack of 3 colours and an airbrush cleaner. You can literally open the box, follow the step-by-step instructions for successful cake decorating and you will soon be producing amazing results.

Technical:

• Internal mix (Air/Paint mix inside airbrush giving a fine dot spray pattern)
• Spray pattern approx. 1.6 - 30mm

Compressor Characteristics:

• 3 pressure settings - low, medium, high
• Very quiet in use
• Max Air pressure 15psi
• Power - 9w, current less than 800mA
• Airbrush holder
Cake Airbrushing

Airbrushing is a cost-effective and time-saving method of cake decoration.
It on cakes allows the user to cover large areas easily and economically.
Create amazing ombre effects, or add detail and shading freehand or with the use of stencils.
Use to add a mist of colour to sugar roses or give a coloured border to a plaque.
Please note: This version includes a UK plug.
Product Code: SP30/CDK
Product Name: Spraycraft SP30/CDK Cake Decorating Airbrush Set
Brand: Spraycraft

Barcode: 5060576965047
Weight: 866 grams
Dimensions: 297mm x 210mm x 70mm

Shipping Weight: 1000 grams
Shipping Dimensions: 297mm x 210mm x 70mm